High Molecular Weight (HMW) DNA
Let our team prepare megabase size DNA for your Physical mapping and NGS Library Preparation project!
Our team has years of specialized DNA extraction experience from all types of plants, insects, mammals and fish.
Deliverables for a IRYS typical project are FOUR ultra pure agar plugs with ~3 µg to 5 µg HMW DNA in each. We provide a PFGE photo of the HMW DNA quality and quantity.  Our HMW gDNA preps are optimized for the BioNano Genomics IRYS platform.
Below is a Pulsed Field Gel Photo showing High Molecular Weight DNA (HMW DNA). The ladder has bands every 50 KB. The bright wide band under each well of the gel is megabase sized genomic DNA, perfect for Physical mapping.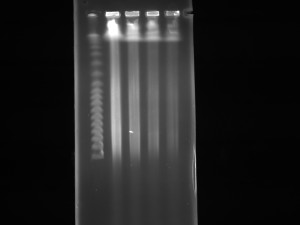 "For the HMW DNA isolations Amplicon Express has done so far, the DNA quality for all samples was excellent. When HMW DNA concentration is desirable, we usually obtain fragment sizes N50 > 200 Kb. For some of the samples which the DNA concentration is low, a few extra steps are needed by our team to obtain reasonable concentration for BioNano IRYS Optical Mapping procedure, but it still generates good data." – Professor Mingcheng Luo, UC Davis

Click here for additional HMW gDNA images & examples from a wide variety of organisms.

Click here for more information about BioNano Genomics IRYS and Saphyr mapping:  http://www.bionanogenomics.com/products/
Contact us to get a HMW DNA prep quote.